New Gondola Palisades Tahoe | Alpine Meadows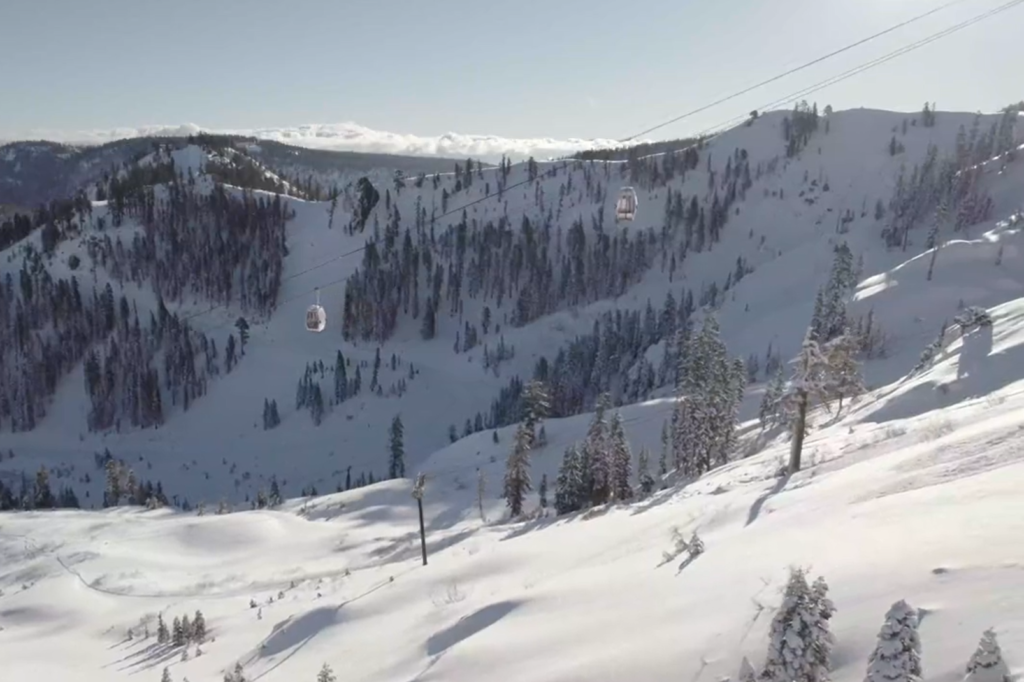 Alterra Mountain Company owns and operates Palisades Tahoe, which combines the old Squaw Valley ski resort with Alpine Meadows. These two ski areas have always been very different, but it has just become much easier to visit both on one day of skiing.
Squaw Valley, now called Palisades Tahoe, appeals to those who like a more challenging terrain. Home to the Winter Olympics, in 1960, runs like KT-22, Headwall and Granite Chief appeal to world-class skiers and snowboarders. The Village at Palisades Tahoe also offers sports retail shops and restaurants.
Alpine Meadows has always been the local favorite, as it doesn't have the same congestion. The runs are more wooded and meandering. Runs like Lakeview, Summit and Sherwood offer different terrain options based on conditions.
There is an old-world charm to Alpine Meadows, complete with a Swiss style chalet that serves food mid-hill. The Chalet is an Alps-inspired cabin near the base of Scott Chair. It has a cozy fireplace where you can enjoy a cinnamon bun or a late-afternoon panini and beer on the deck.
Alpine Meadows also has the Ice Bar located near the Sherwood Chair with a ski-up window. The Alpine Meadows ski experience is much more charming and family-oriented.
After years of anticipation, Palisades Tahoe opened a Base to Base Gondola, which connects the two resorts for easier access between them. Now, visitors can enjoy the world-class shopping, restaurants and skiing at Palisades Tahoe, and visit the quaint areas of Alpine Meadows.
Their grand opening ceremony featured several people blowing Alphorns at the top of the hill. These are the long horns that are popular in the Swiss Alps. They had an official ribbon cutting ceremony and guests were able to embark on the Gondola for the first time.
For many years, people took off their equipment to board a shuttle between the two resorts. Season passes and lift tickets always included access to both mountains, but now, traveling back and forth is much easier.
Additionally, Gondola riders will see terrain that had never been visible before. While the new Gondola covers more terrain, it did not add access to these backcountry areas. No new ski runs have been added as a result of the new Gondola.
The length of the Gondola is 2.4 miles, and ascends 3,105 vertical feet. It is 1 mile from The Village at Palisades Tahoe base terminal to the KT mid-station. From the KT mid-station, it is 1.4 miles to the Alpine Lodge. The ride is approximately 16 minutes.
The Alpine Meadows Lodge has also been renovated to offer easier access to the lifts. One used to have to traverse up a hill to board Roundhouse and other chairs.
At Palisades Tahoe, the Red Dog run has a new Quad chair, so there are many upgrades at Palisades Tahoe for the 2022/2023 ski season.
The gondola utilizes an automated parking system which parks the 96 cabins indoors, keeping ice off of them. This is an added benefit for early morning skiers who can hop right on them. It includes 4 terminals with 33 lift towers. Each cabin seats up to 8 people, which means it can transport 1400 passengers per hour.
We have had a lot of snow in November and December, so conditions are excellent. The same period also saw a reduction in interest rates, so maybe it's time to buy your mountain retreat?
Contact me today for more information about real estate market conditions at Lake Tahoe and Truckee.